Enterprise-grade Appointment Scheduling Software
For businesses requiring reliable appointment scheduling software solution with high performance, security, premium support, and guaranteed uptime with SLA.
Request a quote →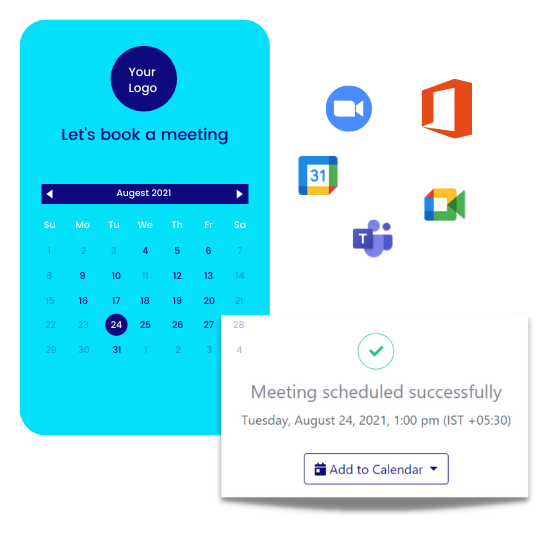 Premium Support
We guide you from on-boarding to integration. In an unlikely case you face a problem, we are always available with four-hour response time.
Security and Data Privacy
Your data is always secure in our all-encrypted architecture, secure protocols, firewalls.
Unlimited Scalability
Our cloud-based architecture ensures system stability and performance beyond traditional self-hosted solutions without any upper limits on meetings.
Custom Feature Development
We offer custom feature development according to your business requirements so you can focus on your side of the business.
Team Pages
Setup team pages to display all team events on single page allowing invitees to schedule.
Admin control
Get new and existing team members set up for efficient scheduling with useful event types.
Centralized billing
Eliminate expense reports from each team member with one easy payment that covers all users' subscriptions.
Support
SLA
Onboarding
Invoice Billing
Enterprise Plans
24/7/365
Run your business with ease and efficiency by using DaySchedule Enterprise
A powerful, integrated cloud based scheduling software for appointment booking and online calendaring. Easily manage your appointments no matter how many team members, locations and calendar you have to synchronize your availability
DaySchedule is an intuitive online appointment scheduling software, allowing you to easily schedule appointments, send reminders to your customers and track all your team members meetings on a single platform. It has everything you need to organize the online appointments and comes with an interface which allows you to set up appointments by offering different slots for the times of day, days of the week, specific dates or ad-hoc across the time-zones.
---
Unlimited scheduling pages
Unlimited events
Unlimited bookings
Accept payment on booking
Zapier, Slack and 10+ integrations
Multiple users with role-based security
Request a demo